Things To Do in West Dover Vermont
Southern Vermont's Premier Destination and home to Mount Snow & The Historic Villages of Dover and Wilmington
Winter in the Deerfield Valley
Mount Snow will open on November 14th!
Visit our Mount Snow page for all the details and to plan your visit.  Known as "The Skier's Highway," the Deerfield River Valley Route 100 Byway connects you to the best of Northeastern winter skiing and snowboarding as well as even more thrilling winter adventures.
SNOWMOBILE
If you have never experienced the thrill of snowmobiling now is your chance. The best way to enjoy this winter sport is to take a tour through the New England wilderness and backcountry trails. Take a journey through the Green Mountain National Forest on the Vermont State Trail System where you will get to take in the views on Vermont's spectacular mountain vistas. For more information on two-hour and one-hour tours visit www.snowmobilevermont.com. The Snow Goose Inn is located directly on the VAST trail.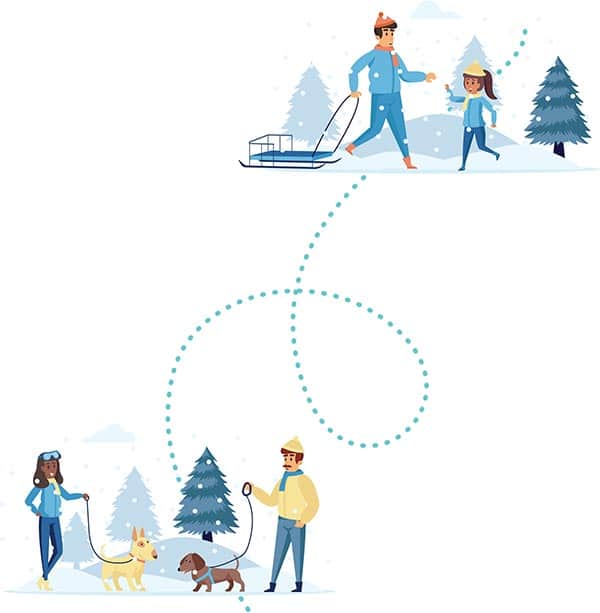 Cross Country Skiing and Snowshoeing
This relaxing alternative to downhill skiing, cross country skiing, and snowshoeing is a great chance to explore the quiet of winter in the Deerfield Valley trails by foot. In addition to Mount Snow, you can visit Timber Creek Cross Country Ski Area right on Route 100 in West Dover.

Dog Sledding
This is an exciting one-of-kind adventure you will want to book well in advance. Take a trail ride and get up close and personal with nature and the Deerfield Valley with Husky Work Mushing Company. For more information visit – huskyworks.com
Sleigh Rides
Head to nearby Townshend, VT to dash through private trails on a winter wonderland sleigh ride. For more information about sleigh rides and tours visit https://friesiansofmajesty.com/carriage-sleigh/sleigh-rides
Winter Indoor Ideas
Maybe you spent an exciting day enjoying all the fun of the outdoors in southern Vermont or you just want to stay cozy indoors there is plenty of fun still to be had.
Try classic New England Candlepin Bowling, miniature golf, or arcade games for the kid in all of us at North Star Bowl.  Escape the cold and reality and spend an hour solving a mystery or try your hand at a card game, board game, or puzzle.  Take in a movie at the newly renovated cinema. Visit Historic Downtown Wilmington, VT for village shopping, dining, arts, nightlife, and more.
Spas
Complete your stay with a visit to the Serenity Spa in the heart of Wilmington Vermont to indulge yourself after a day on the trails or just because you deserve it! In addition to a full range of services they also offer a pool, hot tub, and sauna for Spa guests for an additional fee.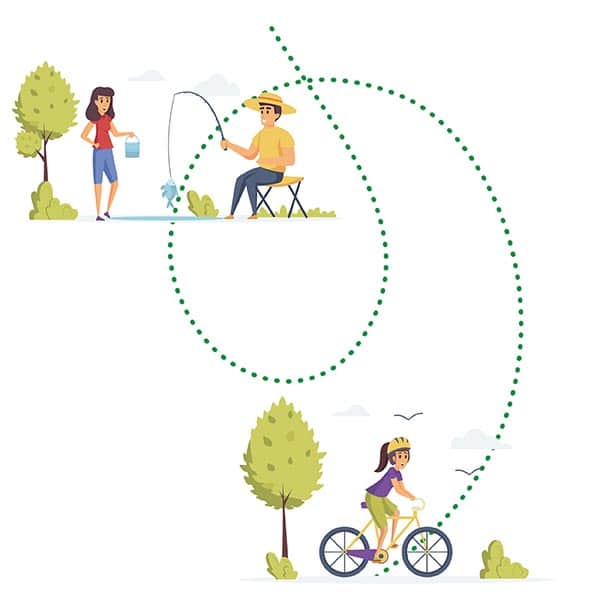 Spring & Summer in the Deerfield Valley
Breathe in the fresh mountain air and watch nature come to life during Spring and Summer in the Green Mountain State! While we may be well known for being a winter playground, we absolutely shine in the summertime too.  The list of great options here in the Valley really is endless so we can't list them all, but we can certainly give you a few ideas.
Hiking, Biking, and Trails
When the snow clears the trails come to life in a new way and you will truly see why Vermont is called the Green Mountain State. Nearby you will find Mount Snow which is part of the Green Mountain National Forest and home to some of the best mountain biking trails in the state. In addition to Mount Snow, there are many other opportunities for mountain biking as well as more scenic road biking.
If traveling our beautiful roadways and towns here in Deerfield Valley is more your speed, there are rentals and maps available at Mount Snow as well as at many of the local equipment stores. The scenic roadways are a wonderful retreat for motorcycle enthusiasts.
The Hogback Mountain Conservation Area is a special place that brings you to the famous 100-mile view. On a clear day, you will be rewarded with views of Vermont, Massachusetts, and New Hampshire. Pull off and enjoy the scenery. Stay a little longer and take a hike.  Hogback offers a wealth of natural and scenic resources including the headwaters of the Green River watershed.  It provides important wildlife habitat for a variety of mammals such as deer, porcupine, bobcat, black bear, and moose. It also includes summer habitat for neotropical migrant birds such as the black-throated blue and black-throated green warblers. Hogback Mountain is open year-round to the public for hiking, snow-shoeing, and other low-impact recreation.
The Hogback Mountain Conservation Area is also adjacent to the Molly Stark State Park and includes a trail that links the two together.
Water Sports & Fishing
With three picturesque lakes and a mountain landscape as your backdrop enjoy kayaking, paddle boarding, canoeing, swimming, fishing, and more.
South of West Dover you will find the Harriman Reservoir, also known as Lake Whittingham. This crystal clear river is eight miles long with 28 miles of undeveloped shoreline that connects you with nearby trails and wildlife. Here you can also enjoy bird-watching where you may spot a soaring bald eagle or common loon as it glides across the water. Pack a picnic lunch to enjoy with views of the Green Mountains.
Village Shopping & Dining
Great shopping, talented local artisans, and galleries make us the perfect place to stay and explore this summer.  Foodies take heart!  Vermont is home to an amazing amount of farm to table businesses and the Deerfield Valley features many restaurants that will provide you with innovative, delicious and extremely fresh meals. Enjoy a signature dining experience in Wilmington and Dover, Vermont at one of the many restaurants featuring finely crafted cuisine using local ingredients. Memorable culinary forays await you.
Check out the events page for what's happening in the valley.  The Southern Vermont Deerfield Valley hosts spectacular festivals, including Deerfield Valley Blueberry Festival, Mount Snow's Brewer Fest, Vermont Wine & Harvest Festival, and much more. 
Fall in the Deerfield Valley
Watch the Green Mountains turn to gold in the Autumn.
If you are visiting for fall foliage season according to Yankee Magazine Vermont is home to the World's Best Foliage. That is probably because we have the highest percentage of maple trees in the country and forest covers three-quarters of the state.
In early autumn you can enjoy the same hiking, biking, kayaking, canoeing, and outdoor adventures of summer while witnessing the changing of the seasons.
Sightseeing
Take the Route 100 National Scenic Byway to experience this season in the heart of the Deerfield Valley. From the Snow Goose Inn head through Wilmington Village to the Somerset Reservoir Trail where you can enjoy this secluded lake trail in the crisp fall air with the beauty of the changing season surrounding you. Many of the additional hiking and biking trails and mountain vistas of the summer months transform into the perfect sightseeing grounds for perfect New England fall foliage.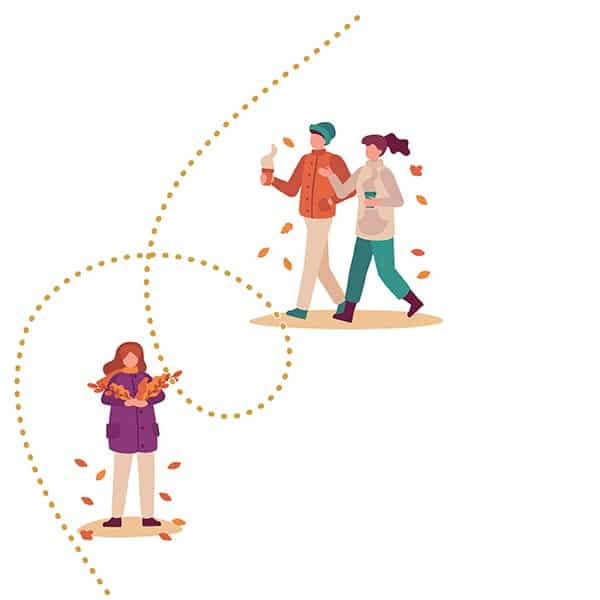 Pick-Your-Own Farms & Orchards
Nothing feels more like Fall than visiting an orchard to pick your own apples or tasting fresh apple cider. Southern Vermont is the home of pumpkins, spice, and everything nice making it the perfect fall getaway! Visit the Green Mountain Orchards in Putney, Vermont for picking your own apples, baked goods, hay and wagon rides, a picnic area, and a gift shop. Head to Dummerston, Vermont to Scott Farm with features a pond, picnic table, and farm stand filled with heirloom apples and fresh-pressed cider. You can also pick your own apples and shop at the market. Just down the road in Wilmington, Vermont is the Boyd Family Farm. Stop by to grab something from the farm stand or choose from a selection of mums, hay bales, pumpkins, gourds, and more.
Recommended Things To See & Do When Staying With Us
Click on Orange Map icons to see more