Our Hotel in West Dover, Vermont
Welcome to your sanctuary at the foot of Mount Snow
Here in the heart of the Deerfield valley stands the elegant and graceful Snow Goose Inn. The Snow Goose Inn offers 12 large and well-appointed rooms, suites, and Jr suites. Most rooms include fireplaces and direct access to our covered porches. All rooms have private baths, air-conditioning, and heat controls. The North and South Halls of the house are connected across three large and comfortable common spaces including the centrally located dining and gathering kitchen areas. With over 8,500 square feet of indoor space, seven outdoor covered porches & decks, plus the grounds, garden, and pond – the snow goose offers a wide variety of places and spaces for your enjoyment.
Serving guests since 1960, the Inn established a history of warm and friendly service. Most recently the Snow Goose was operated as part of a private club; the property re-opened to the public as a traditional Inn under new owners in 2020. During that transition, the property was fully renovated and updated to a high standard. This Fall will mark the opening of our new "gathering kitchen." We are very excited about this new flexible floor plan; it allows the new kitchen space to be opened up and become part of the overall dining and common spaces – or closed off for more formal meal services or catered events.
Today the property is owned and operated by the resident Parker family. Cheryl and Jon have a combined 50 years' experience in high-end executive and family office travel services. Cheryl and Jon have brought their expertise and experience to the Snow Goose Inn.
At the Snow Goose in you can expect to find warm hospitality, comfort, and convenience – even a Tesla charging station. We offer exceptional amenities that will elevate your experience while you indulge yourself in the charm of West Dover.
The new rooms feature all new: tile baths with large walk-in showers; furnishings including plush – "Heavenly" bedding; air-conditioning and heating systems, HEPA and UVC air purification; fiber-optic Wi-Fi; K-cup; mini-fridge; and HD TV. Most offer fireplaces and direct covered porch access. The renovated common spaces offer HEPA and UVC air purification, new comfortable furnishings grouped in intimate distanced settings. The Snow Goose has multiple separate spaces where couples and families alike will find a safe distance as needed.  All of our indoor and outdoor furnishings are new and designed for comfort and versatility – whether relaxing or dining we know you'll enjoy them.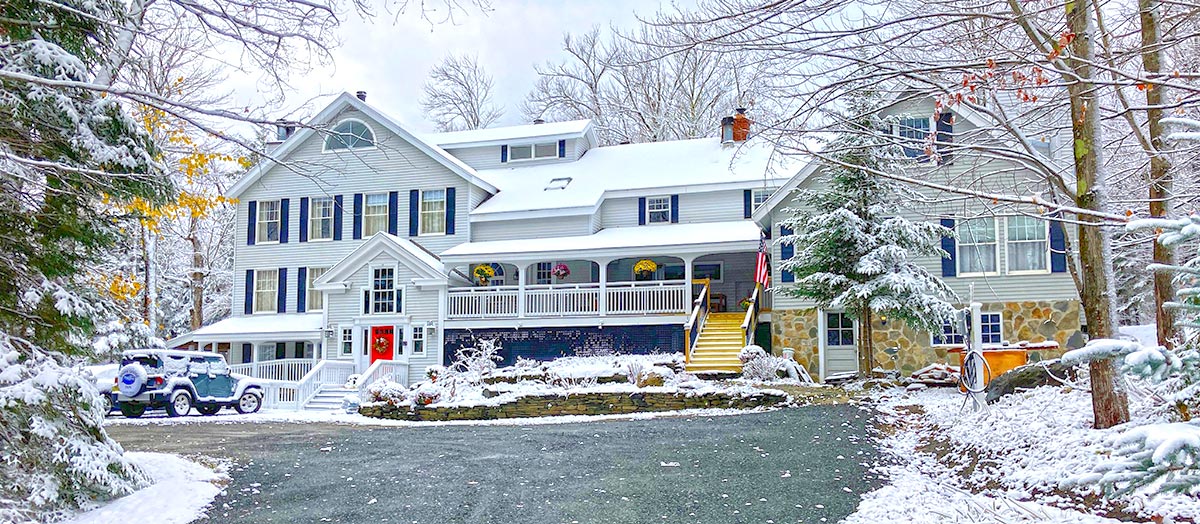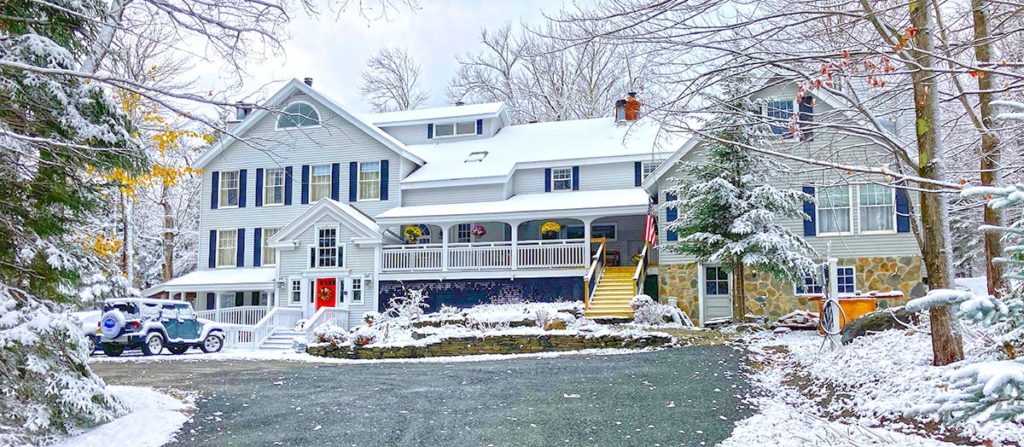 The Snow Goose offers multiple dining options. Complimentary weekend grab and go breakfast "to order" services will be available for the foreseeable future.  Guests can enjoy their meals in-room or in our dining room. Our dining areas have been configured to offer safe indoor distanced dining for groups small and large on a reservation basis. The Snow Goose Inn is joined with the Last Chair restaurant by a lighted pathway – connecting our Inn to the restaurant provides a "resort" environment for guests looking for dinner, music – or even a game room for the kids (young and old). 
Or you might choose to enjoy local dining from area restaurants right at the Snow Goose Inn. Choose from serval area restaurants – give us your order and we'll have it served to you in our dining area.  Whatever your preference The Snow Goose has you covered.
All guestroom and suites feature:
Some guestrooms and suites feature: